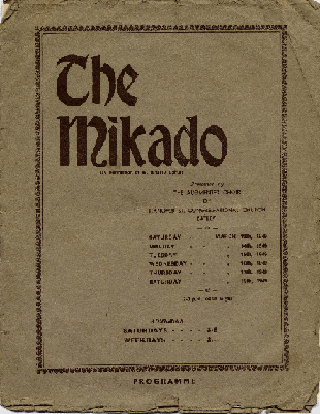 Producer/Director : Councillor W. Stubbs
Musical Director : H. Mason

Cast
The Mikado Of Japan:
George Kenworthy
Nanki-Poo (his son,disguised as a minstrel):
Alfred Smithson
Ko-Ko (Lord High Executioner of Titipu):
Reggie Carter
Pooh-Bah (Lord High Everything Else):
Stanley W. Lockyer
Pish-Tush (a Noble Lord):
Theodore Robinson
-- Three Sisters, Wards of Ko-Ko --
Yum-Yum:
Ella Burton
Pitti-Sing:
Eileen Richardson
Peep-Bo:
Olga Stead
Katisha (an Elderly Lady) :
Annie Hirst
CHORUS OF SCHOOLGIRLS, NOBLES, GUARDS AND COOLIES:
Ladies (Mesdames): M. Lockyer, M. Jackson, P. Mason, E. Stead,
M. Thompson
Ladies (Misses): M. Ellis, H. Littlewood, C.M. Lockyer, M. Micklethwaite,
B. Newsome, J. Partington, M. Reavely, J. Reed, Dora Senior, Dorothy Senior,
H. Smales, M. Sykes.
Gentlemen (Messrs): J. Ainsworth, F. Atkins, J. Baker, H. Haigh, B. Hirst,
F. Hirst, H.V. Johnson, A. Kirby, O. Mawson, G. Peace, B. Pratt, I. Scott,
P. Senior, J. Ward, J. Whitehead, O. White.

"The Mikado" in photos