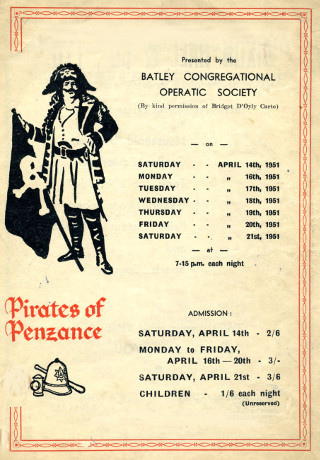 Producer/Director : J.W. Gillings
Musical Director : J.W. Gillings

Cast
Major-General Stanley :
Stanley W. Lockyer
The Pirate King (Pirate Chief):
Theodore Robinson
Samuel (His Lieutenant):
William E. Hirst
Frederic (A Pirate Apprentice):
Alfred Smithson
Sergeant of Police (Edward to his friends):
Will Walker
-- General Stanley's daughters --
Mabel (General Stanley's 'youngest' daughter):
Ella Burton
Edith:
Irene Richardson
Kate:
Margaret Gilby
Isobel:
Christine M. Lockyer
Ruth (A Piratical Maid-of-all-work):
Richmond Newsome
CHORUS OF PIRATES, POLICE and GENERAL STANLEY'S DAUGHTERS Ladies :
Mesdames: Fisher, M. Hallas, M. Lockyer, I. Norton, M. Price, H. White.
Misses: P. Blakely, M. Ellis, M. Freeman, S. Halstead, P. Jubb, M. Reaveley,
J. Reed, D. Senior, H. Smales, E. Smith, O. Stead, M. Sykes, B. Taylor.
Gentlemen:
Messrs: F. Atkins, R. Carter, A. Grayshon, W. Kemp, C. Moul, F. Oldroyd,
G. Peace, F. Stead, E. Watson, O. White, J. Whitehead.
"The Pirates of Penzance" in photos