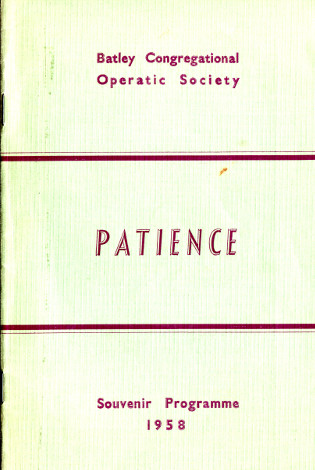 Producer/Director : Hilda Naylor
Musical Director : Chas C. Twigg

Cast
-- Officers of the Dragoon Guards --
Colonel Calverley:
Geoffrey Greenwood
Major Murgatroyd :
Malcolm Byrne
Lieut. The Duke of Dunstable:
Alfred Smithson
Reginald Bunthorne(a fleshly poet):
Clive Moul
Archibald Grosvenor (an idyllic poet):
N. Allan Haigh
Mr. Bunthorne's Solicitor :
Reginald Barron
-- Rapturous Maidens --
The Lady Angela:
Barbara Moul
The Lady Saphir:
Margret Wilson
The Lady Ella:
Irene Richardson
The Lady Jane:
Richmond Newsome
Patience (A Dairy Maid):
Betty Sykes
Chorus of Rapturous Maidens:
Judith Hampshire, Margaret Haigh, Jean Trafford, Dorothy Farquharson,
Margaret Reavely, Margaret Wright, Ella Burton, Christine Gill, Sandra Allott,
Christine Butterworth, Judith Rawdon, June Smithson, Hilda White, Olga Carter,
Olga Obercrombie, Barbara Gater, June Dawson, Diana North,
Brenda Dickinson.
Chorus of Officers of Dragoon Guards:
F. Burton, J. Whitehead, A. Grayson, D. Kemp, F. Atkins, A. Greenwood,
E.G. Watson, J.T. Kirkby, G.H. Price, R. Ineson, D. Idle, A. Bates, O. White,
J. Sampson, I. Brown, B. Smithson.
"Patience" in photos