Welcome to Batley G&S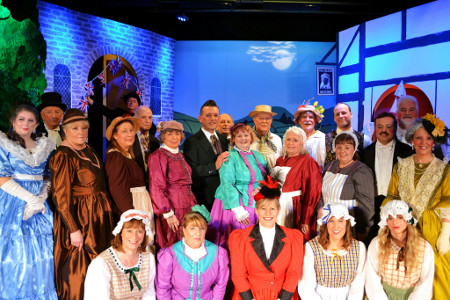 We are an enthusiastic group of amateur performers dedicated primarily to performing the works of W.S. Gilbert and A.S. Sullivan. In 2009 we marked our 60th anniversary, and now look forward to being able to celebrate our 70th anniversary in 2019.

Our most recent production was "The Sorcerer". See Sorcerer 2018 for cast list and more photos.
Rehearsals will start on the 24th October 2018 for our next costumed production, "The Pirates of Penzance", which we are looking forward to presenting in Batley Town Hall in April 2019.

In the mean time we are currently busy rehearsing for 2 concerts in October. Titled "A Cornucopia of Gilbert & Sullivan" this will showcase songs from many Gilbert & Sullivan operettas. See Our Next Concert for more details.
Opportunities
We are always looking for new members, so if you fancy exercising the vocal chords and enjoy four-part singing, why not come along to:
-- St. Andrew's Community Hall, Denison Street, Batley WF17 7NU --
on Wednesday evenings at 7.30 p.m. See the Members Area for more details.

If you don't want to make a weekly commitment, there are other opportunities to help backstage and front of house around the show time:
Set design and construction
Scenery painting
Collating and organising stage properties
Wardrobe and Make-up
Front of House – selling programmes, raffle tickets
For further details contact either our President, Stephanie Roe or Secretary, Carol Parkinson – see Contact Page. You can also catch up with our activities on our Facebook page.